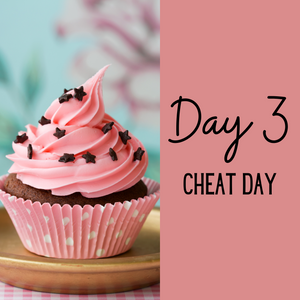 10 Day Keto Challenge - Day 3 - I cheated!!
Day 3:
Saturday is a cheat day. I'm a believer in "resetting your metabolism". After doing low carb or keto, I believe having a day of cheat meals shocks your system, and resets your metabolism. In the past, I have found that I have not gained any weight, during that time. I learned this concept in "The 4-Hour Body" by Timothy Ferris. It helps your increase fat loss by making sure your metabolic rate doesn't decrease from your calorie restriction during the week. If you aren't a fan of keto/low carb you can choose to do the "slow carb option" which allows you to have beans. I have done this option in the past and it works well too. 
If you choose to have a cheat day, do it five days after you start your diet. I have already been doing keto so that's why my cheat day is on day 3. Personally, if I allow myself a cheat day, I find it easier to stick to my diet during the week. The cheat day allows me something to look forward to. 
This book digs deeper and has tons of information about dieting and exercise. 
I started my day off by walking. I walked a mile. I could have done more, and I should have...
After my walk, I mixed the Cocoa Swiss with Coconut milk, and it tasted so much better! If you like chocolate milk, then you will like it. It still wasn't my favorite.
I broke my fast and actually had breakfast since it was cheat day. I usually fast between 7pm-11:00am the next day. This is called intermittent fasting. You basically skip one meal. We can get into that another day...
Breakfast: Chickf fil A grilled chicken burrito bowl, diet lemonade and fruit! I really wanted a biscuit, but I was feeling guilty. 
Lunch: Chicken Salad Chick, broccoli salad, and a cookie. Water to drink.
Afternoon: Raspberry Lemonade Nat in water.
Dinner: Grilled Cheese, chips and queso, piece of cake. 
I did not eat past 7pm.
I told you today was cheat day! I meant it! You can eat whatever you want. 
Drink Plenty of Water
I forgot to mention in yesterdays post, you should be drinking half of your body weight in water (oz not lbs lol). YOU CAN DO IT! With my weight, I should be drinking 85.5 oz of water. I almost had a come apart. It's not so bad. I fill my 32oz Tumbler up in the morning, afternoon, and evening. It's gone in no time.
Supplements:
I'm adding prenatal vitamins (you can use whatever vitamins you want), probiotics, and Vitamin D everyday. Here are links to the benefits of these. 
,https://my.clevelandclinic.org/health/articles/14598-probiotics 
 https://ods.od.nih.gov/factsheets/VitaminD-health%20Professional/
Copy and paste this link below into your browser to learn more about the drink I am using. Again, I do not sell this product. This is an experiment!! :)
https://wbxg4n.challenge.com/
---