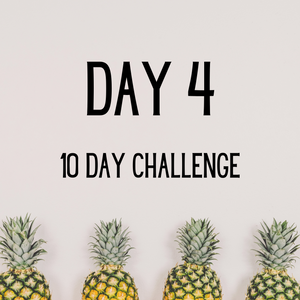 10 Day Keto Challenge - Day 4
After I over indulged in carbs Saturday, I had the weirdest dreams! I woke up feeling bloated and sluggish. I guess that's the point right? Make yourself feel so bad that you can't wait to jump on the diet train again! I didn't step on the scale. 
Pearl of Wisdom:
Do not weigh yourself all the time. You may not see weight loss, you may see weight gain and think how is this possible? You get discouraged and want to give up. The scale likes to play mind games.The more protein you are eating the more muscle mass you build. Muscle weighs more than fat.
Instead, measure yourself. You may see inches lost and not weight loss. That's what we really want to see right? I don't care how much I weigh as long as I'm going down a clothing size. 
Day 4:
I did my usual fasting until 11:00am except for my Cocoa Swiss Nat.
I added to coconut milk and a little bit of almond butter! Even better! I recommend blending it. I was just too lazy to get the blender out. I sucked up a few chunks of nut butter every now and then, but that's okay. 
Lunch: I had a Quest Bar. Depending on the time you drink your ketone drink you may not be hungry. For those wondering, Quest Bars are low carb protein bars. They have so many different flavors, and they actually taste good. 
Afternoon: Raspberry Lemonade NAT 
Dinner: I actually cooked a low carb meal for my husband and I. We had Pizza Stuffed Peppers! Only 2.8g Net Carbs per serving. It makes 4 servings. I had three stuffed peppers - 4.2 net carbs! Not bad at all! 
I get a lot of my recipes from the Southern Keto Cookbook. 
Recipe: I followed the recipe and did not substitue. If you don't like Italian Sausage then you can used ground turkey, beef, or chicken! 
I finally got Ketone strips! On the blog post tomorrow we will test and see if I am in ketosis! :) Stay tuned!!
---