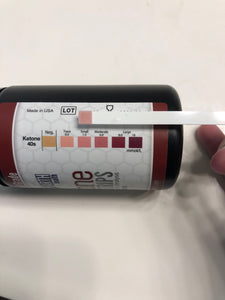 10 Day Keto Challenge - Day 6
I did not forget to test for morning ketones!
I actually had more ketones and it put me on the low end of optimal nutritional ketosis! Yes!!
It usually takes you 2-4 days to get into ketosis on a low carb diet. It can be sooner if you exercise or later if your body has a slow metabolism. 
Testing for ketones actually gives me more motivation to keep going. It gives me a visual as to what my body is doing.
Day 6:
Fasting for breakfast with my NAT drink.
Lunch: low carb pizza. I've been on a pizza kick ever since my husband mentioned it a few days ago.
Recipe for my low carb pizza:
-1 Ole Low Carb Wrap - 3 net carbs
-mozzarella cheese
-pepperoni
-pizza sauce: make sure you look at the carbs.
I set the oven to 375. To be honest, I don't let it preheat. I let it bake until its a little hard, then I place the pizza sauce, cheese and pepperoni. Place it back in the oven until melted. SOOOOOO GOOD!!!
Afternoon: Strawberry Peach NAT, delicious! A friend gave me this to try. Im so sad I only have one.
Dinner: Mexican zucchini boats! 
 I carved out the center of the zucchini, and baked until firm but not raw. 375 for 10 min.
Cook your ground beef and drain.
Mix in your favorite taco seasoning
Top it with cheese and bake until cheese  melted. 
You can top with salsa. Just be careful of the carbs! 
You can add any taco toppings you like. I just didn't have any! 
---