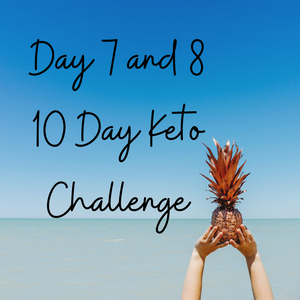 10 Day Keto Challenge Day 7 and 8
I combined both of these days because when I got home from work, I was exhausted! 
Day 7
I weighed myself...I said I wasn't going to but I couldn't help it. I lost another pound! I'm down 3lbs but I feel so much lighter and confident in myself again. 
Again, throughout the whole time I have not been exercising. 
I am doing intermittent fasting until 11am except for NAT Keto Drink, eating a light lunch, drinking another NAT Keto in the afternoon and dinner. 
I have talked to some others that are doing the challenge. Some of them are not following Keto diets and are still losing weight! 
I was lazy, because I worked all day and did not do anything special for dinner. I cooked the Real Good Chicken and had a side of brussels again. 
Day 8:
I still have more energy than ever. I feel fantastic. So fantastic that I ordered more Ketones! They are pricey, but it's worth it to me. I probably would have spent the same amount of money on something that was not going to help my physical or mental state. 
Here is a link to the products I am using if you are interested. 
morganetheridge.pruvitnow.com 
I changed up my morning Cocoa Swiss just a little bit. I added a splash of coffee to the coconut milk! SOOOOO much better! It was even old coffee in the pot from the day before!! 
For lunch, I did another little tortilla pizza.
My afternoon, NAT was much needed. Rockland was a fussy little thing all day.
I cooked a new recipe for dinner: Bacon Cheeseburger Mini Meatloafs! Soooo good.
The recipe calls for sugar free ketchup. I didn't have any ketchup so I used BBQ sauce instead. Very Good. 
This Recipe came from
I really haven't found a recipe in here that I didn't like. 
I will definitely be making these again. My husband is the meatloaf king and said they we fantastic! 
---